0
August 7, 2009 by admin
We at W. Cardone Productions have developed a unique medium for preserving your family legacy. The Multimedia Interactive Family Tree is a personalized DVD the includes a variety of formats to provide your children's children with a valuable inheritance…a complete family history.
Our staff will meet one-on-one with you for an initial consultation. At this time, we will draft a family tree template that will include the name and photo of each individual in your immediate family tree. This template will become the menu for a fully-interactive DVD where each family member becomes a "clickable" button. When choosing an individual on the three from the menu, you will be able to view that person's "story." This story may be told through a variety of media in order to share the important memories of each family member's life.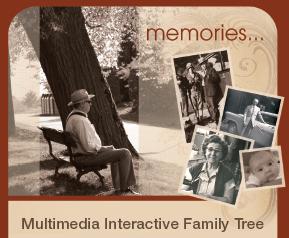 Our suggestions include a professionally narrated photo montage, a combination of photo/home movie clips in a montage, or a professionally filmed video interview.
Free initial consultation
Fully interactive DVD or Blu-ray disc
Story for each family member
Includes one archival grade DVD for ultra longevity.
Imagine viewing a video of your great grandparent, listening to their voice and becoming familiar with their gestures and mannerisms. You would cherish the opportunity! You can provide this priceless gift to your descendants for generations to come.
Category Family Histories | Tags: Family Tree Multimedia Video
---